Progetti in evidenza
Progetto EU - Erasmus Plu KA "Euro - Mongolian Cooperation for modernisation of Engineering competence building in Higher Education"
Il progetto Eu-Mong mira a trasferire le conoscenze tra gli istituti di istruzione superiore (HEIs - Higher Education Institutes) Europei e gli istituti di istruzione superiore in Mongolia, modernizzando i programmi universitari in ingegneria elettrica ed elettronica. I suoi obiettivi principali sono:
→ adattare, innovare e modernizzare i curricula esistenti nelle tre università mongole;
→ sviluppare nuovi corsi di e-learning;
→ testare i curricula innovativi e diffondere i risultati.
Maggiori informazioni al link: http://eu-mong.polito.it/
Progetto EU Interreg Central Europe "PROSPECT2030 - PROmoting regional Sustainable Policies on Energy and Climate change mitigation Towards 2030"
Il progetto si concentra sulle buone pratiche di governo e di indirizzo come azioni fondamentali per ridurre le emissioni di CO2, capaci di guidare la transizione energetica verso un'economia decarbonizzata. PROSPECT2030, attraverso il dialogo con le amministrazioni pubbliche regionali e i principali stakeholder, intende aumentare la consapevolezza dell'urgente necessità di adottare azioni di mitigazione del clima coinvolgendo le autorità pubbliche regionali dell'Europa centrale. Una diagnosi della situazione energetica attuale, con uno sguardo critico a ciò che è stato fatto nel periodo 2014-2020, sarà il punto di partenza per innescare politiche che aumentano l'utilizzo efficiente dei fondi pubblici pianificati oltre il 2020, verso lo sviluppo di regioni sostenibili e un corretto utilizzo delle fonti energetiche rinnovabili territoriali (FER).
Maggiori informazioni al link: https://www.interreg-central.eu/Content.Node/PROSPECT2030.html
Progetto i-link+ 2019: LINKA20220 - Nanotechnology-based thermochromic (nanoTC) materials for adaptive building envelopes [2020-2021]
The proposed internationalization network aims to be the seed for a wider multidisciplinary and multinational consortium for development of nanotechnology-based thermochromic (nanoTC) materials for adaptive building envelopes as a smart approach to improve energy efficiency of buildings and reduce environmental impact of urban areas. Regarding this development, the present network has two objectives:
- Objective 1 - Selection of viable nanoTC materials and technologies for adaptive building envelopes.
- Objective 2 - Formation of a competitive multidisciplinary and international consortium that may successfully apply to European calls for funding the complete development of selected nanoTC building materials.
Development of nanoTC building materials will optimize the use of solar energy to mitigate economic, social and health problems related to energetic and environmental impact of urban areas. Particularly Politecnico di Torino will focus on the performance of transparent TC materials at improving whole buidling energy use and indoor environmental quality, and their integration into the transparent part of the building envelope.
For further info about the consortium and the project, please contact fabio.favoino@polito.it or valentina.serra@polito.it
Progetto cofinanziato da Erasmus+ Programme of the European Union DENSYS - Decentralised smart ENergy SYStems

Erasmus Mundus Joint Master Degree DENSYS is a collaborative two-year (120 ECTs) joint master degree programme with the goal to provide training in the inter-disciplinary fields of Decentralised smart ENergy SYStems. These systems play an increasing role in the perspective of a massive integration of the renewable energy sources into the energy system and the ongoing transition towards a low carbon society.
Co-funded by the Erasmus+ Programme of the European Union, DENSYS will have its first edition in 2020/2021 as an Erasmus Mundus Masters programme, not only an exchange programme but a programme which provides scholarships for studies in leading European Universities with distinctive and complementary academic qualities and strong educational and research traditions such as Université de Lorraine (Nancy, France), Politecnico di Torino (Torino, Italy), Royal Institute of Technology (Stockholm, Sweden), Universitat Politecnica de Catalunya (Barcellona, Spain).
Decentralised smart energy systems (e.g. isolated villages, small cities, urban districts, rural areas connected or not to the electric grid, etc.) play an increasing role in the perspective of a transition towards a low carbon society and then of a massive integration of renewable energy sources within the global energy system.
Accordingly, the overall goals of the proposed EMJMD "DENSYS" are the following:
To educate top skilled engineers with multiphysics approaches, who will be able to design, size, optimize and operate decentralised smart energy systems, with skills and expertise in the mechanical, aeronautical, chemical and electrical engineering disciplines and a sufficient level of systemic overview, which enables analysing the complex interactions in energy systems,
To train future researchers (for both public and private sectors), as decentralized energy systems still require strong R&D investments, at the system scale (smart management), at the component scale (e.g. optimization of the lifespan, energy efficiency or density of the system's components, …) and at the elementary mechanisms scale.
To offer a broad opening on the human and social sciences to enable the students in having a general understanding and a holistic view of the energy systems and finally working with specialists of other disciplines by addressing particularly some non-technical issues: impact in the territories, social acceptance, economical issues, new business models, the active role of the consumer/producer in the systems.
To provide to students an international network as well as a genuine European learning, an integrated multicultural and language experience.
InnoEnergy - Master in Energy Storage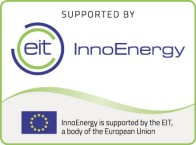 The Master in Energy Storage is a next-generation learning journey that provides you with the tools to face new challenges and to launch a world-class career at the forefront of energy storage, a rapidly evolving theme. Today batteries and storage systems are of great importance to ensure the planned energy transition to Europe. The second year master's degree at the Polytechnic of Turin focuses mainly, but not only, on automotive applications. Delivered by InnoEnergy, global pioneers in sustainable energy education, the Master in Energy Storage leverages a unique global network and unmatched expertise.
This is a research-oriented Master of Science jointly realized by three top-level European institutions, in the framework of the KIC InnoEnergy:
Additional information is available on the official E-STORE website, while for the student plan have a look at Polito Student Program