UMBERTO LUCIA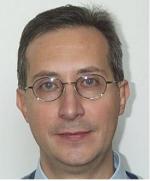 Associate Professor

Member of Interdepartmental Center (PolitoBIOMed Lab - Biomedical Engineering Lab)

+39 0110904558 / 4558 (DENERG)
Patents and other Intellectual properties
Plantare per la stimolazione neuro-riabilitativa motoria. National patent
Priority number(s): 102021000013412
Authors
Antonio Maconi
Marco Polverelli
Rieducazione visiva per telemedicina. National and international patent
View it on Knowledge Share
Priority number(s): 102019000012687
Authors
Maria Rosa Astori
Antonio Ponzetto
Abstract
This device realizes a stimulation of the resilient area of the vision system, by involving light waves. The result is the simulation of the ocular nerve and retina. The device is used for home therapy in agreement with the reduction of the health system cost. The home-use increases the patient's quality of life and home health assistance.
Magnetic application in cancer research and therapeutic aid (magnacarta). National and international patent
View it on Knowledge Share
Priority number(s): 2016IT-TO06014
Authors
Gianpiero Gervino
Antonio Ponzetto
Maria Francesca Silvagno
Abstract
A possible control of the anom alous m etabolic cancer process and its reversal can be obtained by changing the ion and energy transfer through the cell membrane, with a related control of the pH and the membrane voltage . It can be done by the use of a Extrem ely low frequencies (ELF) generated by four coils where the cells are set on plates which are placed on the axial plane of the solenoid.