ARIANNA ASTOLFI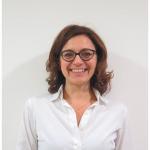 Confirmed Associate Professor

+39 0110904496 / 4496 (DENERG)
Patents and other Intellectual properties
Speech noise spotlight. National patent
View it on Knowledge Share
Priority number(s): 2011IT-TO00975
Authors
Pasquale Bottalico
Giuseppe Vannelli
Abstract
S&N-S Light (Speech and Noise Stop Light) is a new device to control sound levels to due chatting or anthropic noise in indoor and outdoor densely occupied environments. S&N-S Light shows with coloured lights if the sound level exceeds limit values encouraging a self-control of the vocal output.
Strumento per la valutazione acustica qualitativa e descrittiva dei materiali, strumento di misurazione dell'usabilità sonora per le interfacce virtuali e per i sistemi digitali. National and international patent
View it on Knowledge Share
Priority number(s): 2011IT-TO00089
Authors
Abstract
SounBe is a methodology with an associated instrumentation in support of those who face the issue of sound design objects. The invention provides a common method used for any mechanical sound description, later labelled by an adjective and collected in a database. Therefore, it is possible to forecast the perception of the sound characterizing the object, by improving the quality of the final product.